Bienen Ensembles
Zoom Concert: Northwestern University Jazz Orchestra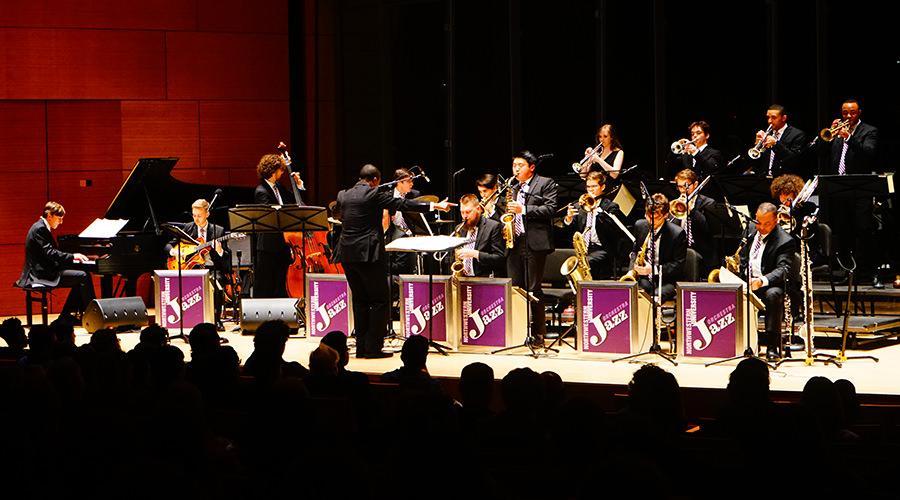 Tuesday, November 17, 2020 at 6:30pm
Join the Northwestern University Jazz Orchestra for a prerecorded concert presented via Zoom.
Provide your email address via the button below, and you will be sent a Zoom link prior to the concert.
Program:
Luca Moretti, "Distance"
Vincent Youmans (arr. Clayton Eshleman), "Without a Song"
Jonathan Rosen, "I Thought So"
Willard Robinson (arr. Sean Deegan), "Cottage for Sale"
Stevie Wonder (arr. Oliver Holden-Moses), "If It's Magic"
Sonny Rollins (arr. Jack Shurtleff), "St. Thomas"
Austin Klewan, "Just Another Love Gone Wrong"
Darsan Swaroop Bellie, Winds of Calamity, mvmt. II: "Protest"
- 10-Minute Intermission -
Peter Hoerenz, "See You Soon"
Antônio Carlos Jobim (arr. Jesse Lear), "Corcovado"
Harold Arlen and Johnny Mercer (arr. Austin Aldrich), "My Shining Hour"
Shanth Gopalswamy, "Astrolabe"
Ted Grouya and Edmund Anderson (arr. Ernie Wang), "Flamingo"
Joseph Nedder, "May I?"
Albert Kuo, "We Embrace"
Free Event